Los Angeles Forklift Training – Keri Russell once said, "Sometimes it's the smallest decision that can change your life forever."
There's so much truth to this simple statement. So many get stuck in a rut. Struggling to find work, working dead-end jobs, or just not earning enough to make ends meet to support themselves and their family. America is the land of opportunity and American Forklift is where opportunity and success is met.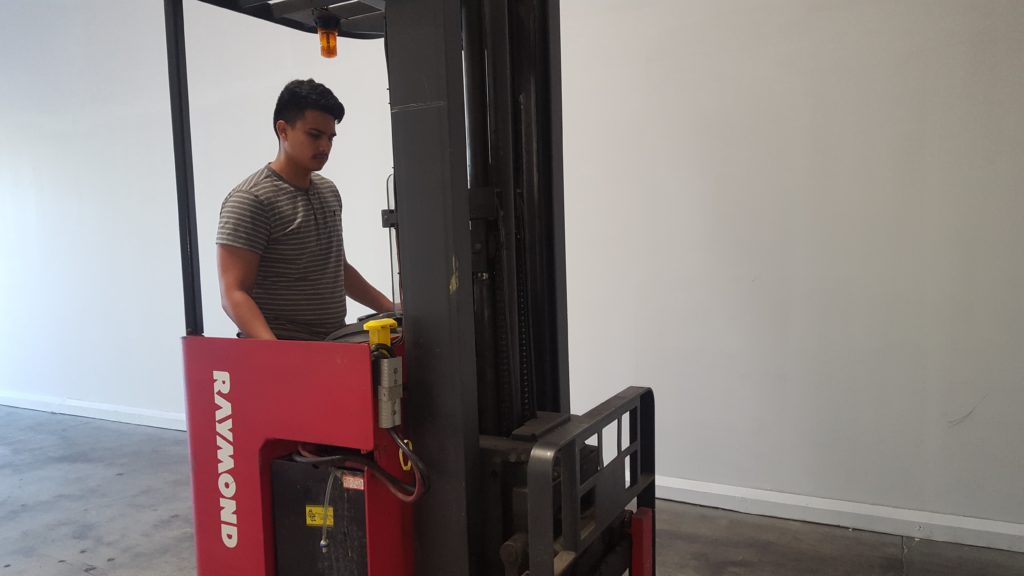 When the above Los Angeles county student, Jesus, was seeking a new chapter in his life, one with room for growth and income potential, he sought out forklift training. After researching the various forklift trainers in the Los Angeles area, he came across American Forklift in Commerce, CA. American Forklift, located throughout Los Angeles County, offers more than quality forklift training and certification at affordable rates. American Forklift helps students earn a better living by providing the highly sought after job assistance service to graduates.
Forklifts are potentially one of the most important tools companies utilize in moving heavy objects. Forklifts increase a business' productivity and eliminate strains placed on the employees' body from lifting heavy items while on duty. Accordingly, the need for forklift trainers not only is supposed to be strong, but according to BLS.gov it's projected to grow.
Furthermore, a career as a forklift driver is only the first step to unlimited growth. As a forklift driver grows within their profession, many move on to supervising and managerial roles with substantial income growth.
Obtaining a career as a forklift driver, however, usually requires forklift training and certification.  In fact, employees prefer hiring forklift operators trained and certified through an OSHA compliant program which teaches students to safely and properly operate a forklift.
The Los Angeles forklift training, offered by American Forklift, not only is OSHA compliant, but it's designed to provide students with the latest knowledge and training on forklift operations, safety, workplace hazards, driving, and maneuvering.
During Jesus' two hours of training, he was provided hands-on operation and training. The Los Angeles forklift training by American Forklift not only included how to operate a forklift, but…
Jesus' forklift training included how to:
Load and unload
Steer and maneuver
Stack and tier
Reduce workplace accidents and injuries
Inspect and maintain the equipment
Operate and control the engine
And more
In just as little as two hours of training, Jesus was properly trained and certified as a forklift driver out of our Los Angeles county location in the city of Commerce.
And that was just the first part! At American Forklift we understand obtaining a certification is one thing, but finding a job is another. Therefore, upon Jesus' forklift training and certification, we sent his information to 60 agencies throughout Los Angeles County, informing them that Jesus is a trained, certified, and recommended forklift driver candidate for their job openings.
As our Google and Yelp reviews present, Jesus and our other students love the training at American Forklift as we strive to provide more than just forklift training and certification, but also job assistance.
We helped Jesus and many other drivers obtain their forklift certification and begin their new career, and we can help you too.
For questions or to learn more, please contact us today (323) 620-7000.
"You are one decision away from a totally different life."
~Mark Batterson