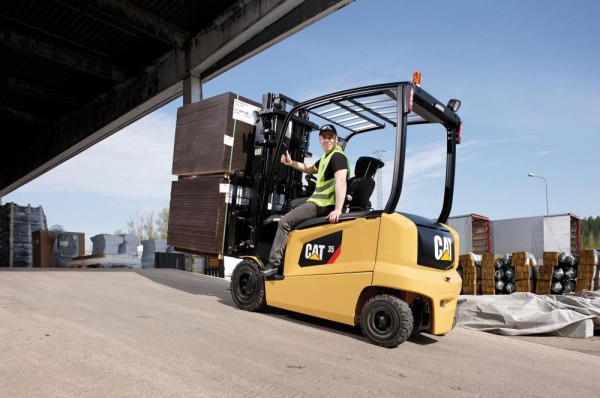 Amazon has announced plans to open another fulfillment center in Southern California, creating an expected 1000 new full time positions. The company states that they will provide competitive wages to its associates. Furthermore, those working full-time are to receive a comprehensive benefit package that includes healthcare, a 401(K), and company stocks, all kicking in on the first day. Full time employees will also receive maternity and paternity leave if needed, performance-based bonuses, holiday pay, overtime pay, paid time off, 4-Day work week in many locations, employee discounts, climate-controlled facilities, and follow a casual dress code.
While Amazon's new fulfillment center is not open yet, it is expected to open in San Bernardino, adding to their already six facilities in California. Centers are located in San Bernardino, Moreno Valley, Redlands, and Rialto. What does this all mean? It means an incredible opportunity for those with a forklift certification is on the rise!
Amazon's press release indicates that these new jobs will be comprised mainly of fulfillment associates responsible for packing and shipping such smaller items as books, toys, and electronics. And as a fulfillment associate, one will have to be "able to and willing to work on powered equipment", such as a "forklift".
Therefore, if two people with similar skills and experience apply to one of these job openings, one with a forklift certification and another without…who do you think Amazon will hire? If you said the latter…wrong. Amazon will hire the candidate that will require less training and considered safer on the job, the candidate with the forklift certification.
And that's just the beginning! Forklift drivers may begin their career as a warehouse associate or moving material / product around, however with time and dedication, they can climb up the career path into a supervisorial or managerial position. And of course, a higher position usually results in higher pay.
In fact, forklift drivers have been known to transition into warehouse managers, operations managers, shipping and receiving supervisors, truck drivers, fleet dispatchers, logistic managers, distribution managers, and shipping and receiving leads.
While on the topic of Amazon, have you heard? They're opening up a second PHYSICAL bookstore, this one planned to be located in San Diego, CA at Westfield UTC Mall near UC San Diego. Ironic though, since this is the business that they vanished with the expansion of online book stores and e-books. Experts are concluding that Amazon wants to expand into the brick-and-mortar book retailing to try and disrupt the part of the business (physical bookstores) that they do not dominate.
In addition, words are leaking that Amazon could be experimenting with using physical stores as smaller versions of distribution centers, creating local distribution sources and reducing delivery times. Described simply, Amazon could be creating "bookstores" that allow for convenient product browsing, purchasing and returning as well as local distribution centers, thus, creating more job opportunities for certified forklift drivers.
As you can see, an incredible company, Amazon (and don't just take our word for it, check out all the high reviews and ratings online) is creating many, many job opportunities for forklift drivers.
So, if you're not currently certified, contact us today to get certified.
The benefits of having a forklift certification/license include creating a competitive advantage over those lacking certification, job opportunities, increased competency and confidence in job skills and forklift operations, reduced risk of workplace accidents, improved productivity, increased profits for the business, reduced operating costs, and improved forklift efficiency…just to name a few.
Therefore, don't pass up this opportunity. At American Forklift Certification, we will provide you with an affordable, yet quality forklift training and certification. Our program is designed to provide you with the latest knowledge and training on forklift operation, safety, workplace hazards, driving & maneuvering, etc.
Contact us today to enroll in forklift training and receive $10 off any training and certification program. Don't wait. With all the press Amazon is releasing in regards to this expansion and 1000 new job opportunities, the competition will be high as everyone will try to land one of the openings. As in any other job, you must stand out and a mention of your forklift license on your resume is key.
To apply to one of these jobs, visit Amazon's career board. There, you'll find positions for a "Fulfillment Associate," "Lead Fulfillment Associate," "Part Time Fulfillment Associate," and "Seasonal Fulfillment Associate." Click the link for the path you would like to take and next click on the link located at the top right, "See our Current Openings." Once the page opens, choose the region you would like to work in. For instance, hover over the image of California and choose one of the areas that appears (i.e. San Bernardino). From there, click on "Apply" and follow the prompts.
Hope that helps!
(323) 620-7000