Los Angeles Forklift Certification – American author, Greg Anderson, describes the law of win-win as, "Let's not do it your way or my way, let's do it the best way."
We find this statement to be the foundation behind our Los Angeles Forklift Certification – onsite program, as we are about achieving win-win situations for forklift operators and their employers.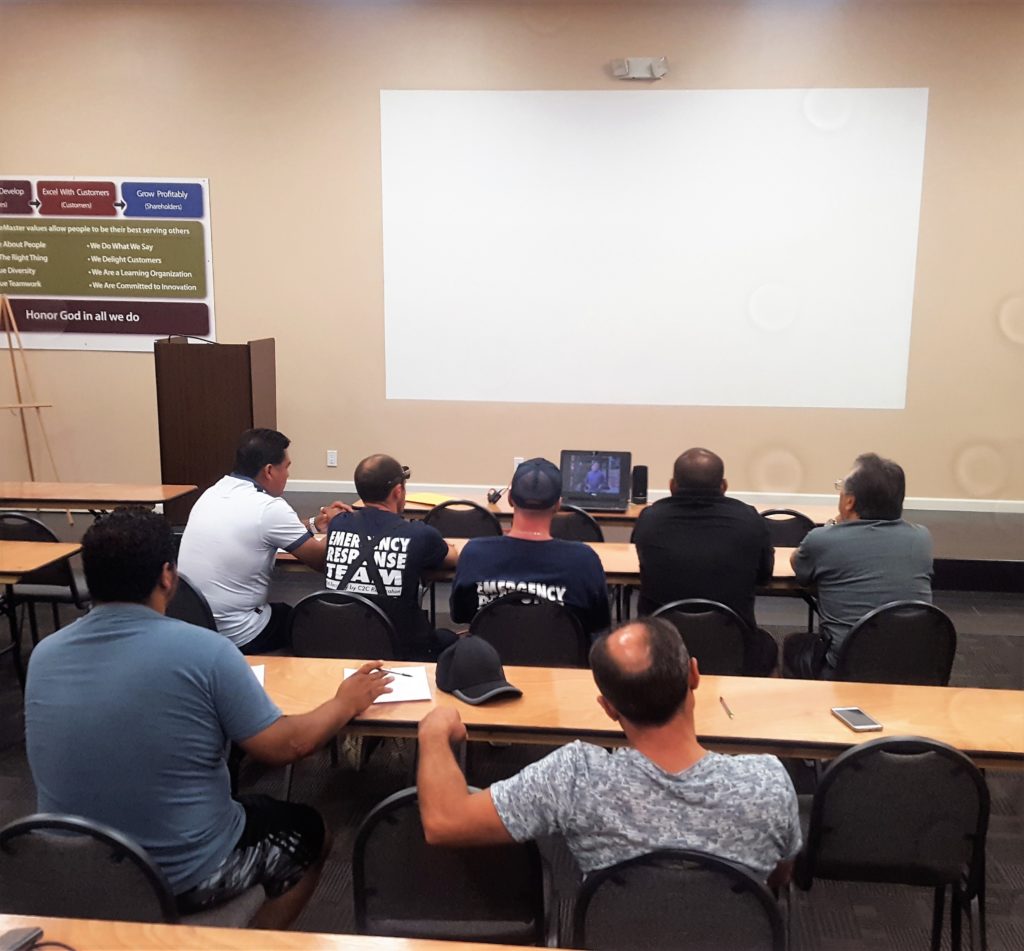 When a business needs to properly train and certify their team in forklift operations, they can either send their employees to a training school, or the training school can come to them. Here, at American Forklift, we offer both. We offer forklift certification at our Los Angeles county locations and can come to you too, as we did for the above company in Sun Valley, CA.
It was a pleasure working with these folks, as each class is designed to be informative and fun. By applying our 15+ years of experience in forklift certification and our passion for teaching, we provided the Sun Valley team an extensive, yet cost-effective curriculum, to quickly train and certify the employees.
Los Angeles Forklift Certification – Onsite Program Included:
An OSHA compliant program training and certifying the staff to safely and properly operate a forklift.
Safety regulations ensuring every forklift operator leaves the training knowledgeable on how to safely operate the equipment and subsequently reduce workplace accidents, injuries, and forklift repairs.
Comprehensive, hands-on instructions suited for all levels of forklift experience.
Inspection and maintenance teachings.
Engine and motor operation, control, and instrumentation instructions, ensuring safe and efficient forklift operations by drivers and operators.
Loading and unloading instructions.
Steering and maneuvering instructions.
Stacking and tiering instructions.
Tractor trailer loading and unloading instructions.
Access to post-certification resources to remain up-to-date with the latest news and changes in the forklift industry.
And More.
Within 1.5 hours, we were able to train and certify the above on how to operate a forklift properly. Subsequently, they're now able to work productively, efficiently, safely, and cautiously…avoiding damaging company equipment. In turn, their company can now save substantially on major repair costs too.
If you are a business wondering whether you should take the offsite or onsite training route, read on.
The benefits of our Los Angeles Forklift Certification – Onsite Training:
Our program is a flexible option, tailored to meet your business' specific training requirements.
It is a cost effective approach designed to save your company money. You won't need to potentially halt production to send your employees away from work and to school on the clock.
Employees can receive complete forklift training and certification or even a refresher course.
Onsite training enables students to learn how to safely operate the employer's equipment.
Employees will have the opportunity to learn within a familiar environment, getting to know the business' machinery better.
Trainers will be able to correct any mistakes observed by the students to help prevent unnecessary misfortune.
Forklift operators can become more aware of their workplace's actual hazards, thus further reducing risks of accidents and equipment damage.
Via onsite, forklift operators can become more confident in their position, thus making them more productive and efficient workers.
Accordingly, if you are a business looking to provide your employees forklift training and certification, our Los Angeles Forklift Certification – Onsite Program may be the solution you are looking for. To learn more, please contact us today.
(323) 620-7000