At American Forklift Training Centers, INC. our students are our main focus.
Here at American Forklift Centers, INC., we know everyone is different with different learning capabilities. That's why our trainers not only are patient, but they tailor each class to each individual student. To make sure you receive the most from your training, we pay attention to you and your needs. We pin point where you're struggling and direct our time and attention to those areas. We take note of how you learn best and adjust our teachings to you.
In fact, we have a motto, "No Student Left Behind." Therefore, we'll make every effort to help you keep up in class and understand the material.
AND THERE'S MORE!
Not only do we want you to graduate with confidence in your newly earned knowledge and skills, but we want to bring to you the most job opportunities possible. To do so, we've partnered up with HUNDREDS of agencies all over So Cal to increase your chances of entering the field exponentially! These agencies are at your finger tip, as they're always just one phone call away. What better way to find a job than to apply to hundreds of agencies here at American Forklift Centers, INC.
From forklift training and certification to landing a job, we want to bring a little more ease into your life! Enroll, take the class, and you can apply to hundreds of agencies if you'd like. Whether you're looking for a new job, more money, and/or a position closer to home, we have established the foundation to get you there!
Let us help you reach your forklift certification and training goals, call us.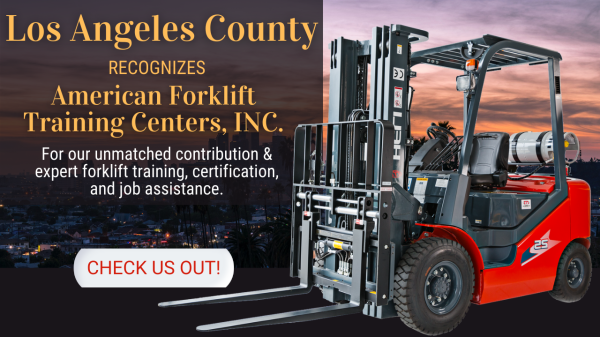 Forklift Certification Catered to You!
Company-Wide Forklift Training & Certification
Eliminate the need for off-site training, let us come to you with our 15+ years of on-site forklift training experience. Not only can our OSHA compliant program train and certify your employees to safely and properly operate a forklift at an affordable rate and in little time, but it will allow you to save substantially on unnecessary forklift repairs and improve company productivity.
Individual Forklift Training & Certification
Start earning a better living by enrolling in American Forklift's affordable forklift operator training and become certified. Upon earning you certification, we will send your info to hundreds of agencies in So Cal, encouraging them to call and offer YOU jobs in your area. Take the class now and simultaneously apply to these agencies! We are located in Commerce, CA.
Forklift Training & Certification Renewal
Is it time to renew your forklift certification? Renew with American Forklift today. We'll quickly get you back to safely and properly operating a forklift with a valid certification, as well as offer you the BEST quality job assistance program by forwarding your information to hundreds of So Cal agencies to help you land a new job opportunity, more pay, or a position closer to home.
Looking for a job? Want to make more money? Seeking a job closer to home? We can help you! We have partnered up with hundreds of So Cal agencies and upon receiving your forklift certification or renewing with us, we will send your information to the companies and agencies hiring in your sought area!
Contact us for more information and/or to enroll.
We offer classes in English and Spanish!
Hablamos Español
Learn more about American Forklift Certification!
See what one of our happy students has to say:
"Easy, fast, and a great price. The instructor explains everything you need to know very well and is very kind. I would recommend the school."
~Cesar Flores