Forklift Job: Commerce, CA – A job is more than a paycheck. For many, it's a part of who they are. That's why, it can be so devastating losing a job (or even being trapped in a dead end position). Understandably, stress, sadness, anger, frustration, and grief come in hand in hand when you're looking for work and applying for one job after another, yet not receiving any calls and watching your savings dwindle away. What's worse? Imagine having a family who depends on you. A spouse, elderly parents, and/or kids. You're one thing, but what about your loved ones? Guilt, fear, anxiety can all suck your energy, spirit, and and cause depression. How are you going to pay rent? Your car payment? Are they going to turn off the utilities? Groceries? Bill collectors?! Ahhh…that overwhelming stress.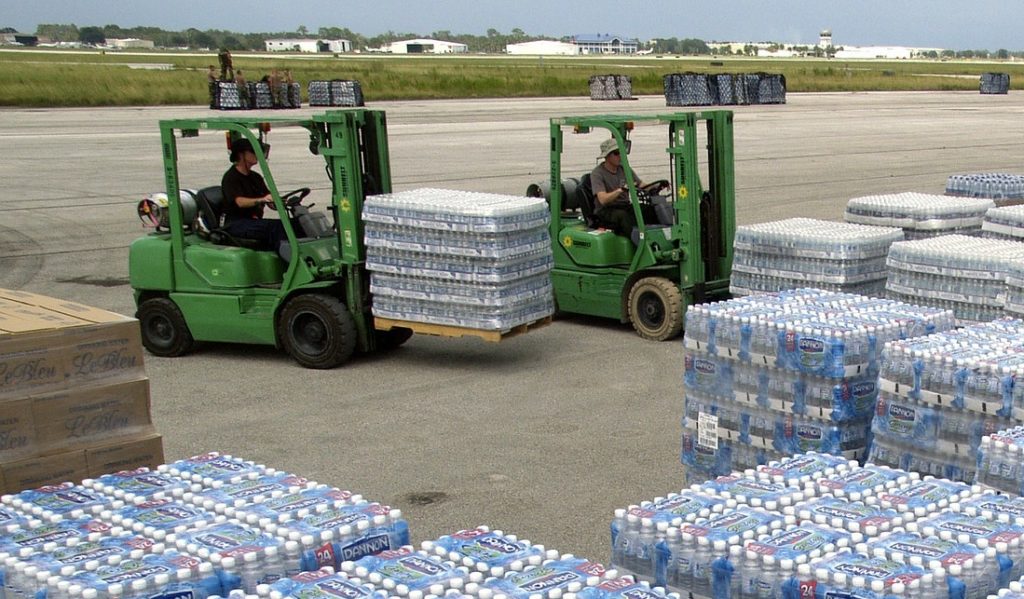 You know what, though? We get it. We know it hurts to stay strong. But just remember, "sometimes you fall down, because there is something down there that you are supposed to find."
For instance, allow us to share with you the story of one of our students, Enrique…
Enrique used to have his forklift certifications, however, they had expired. Unemployed, he, like many, wasn't getting very far with his job hunt for a forklift job opening. As he searched and searched, he decided enough is enough.
Enrique decided to leverage the 3 C's of life: Choices, Chances, and Changes. He decided to make the choice to take a chance to change his life.
With his last dime, he took the chance and chose to sign up with American Forklift Training Centers, INC to renew his forklift certifications. And guess what happened next? His life changed! Enrique renewed his forklift certifications and shortly after was hired by Michael Kors as a forklift driver for more than what he was making before. In fact, he was hired on at $5 more than he was making.
And this is just one story of many! At American Forklift Training Centers, INC we meet both men and women who have decided to make the choice, to take the chance, to create a change. When we created and expanded the training center, we had one main goal in mind, to help the community! We know money is tight, so we wanted to bring to you a quality training center at affordable rates. We know finding work is hard. That's why we did all the leg work for you. At our Commerce location alone, we've partnered up with over 200 agencies to help you get a job.
Think about it, imagine having 200+ agencies in your back pocket whenever you want! Do you know how long it would take to apply to 200 jobs on your own? We've done the math. It would take 150 hours! In between finding job opportunities, completing applications, waiting in line, and physically driving from one company to another, that'll require at least 2 hours per application! And let's not forget the time required to wait for a call back (if even they call back). But guess what? As a student of American Forklift Training Centers, INC you can reap all the benefits without actually putting in 150+ hours of your time. By taking one of our classes, no longer do you have to drive to company after company,  agency after agency, completing forklift job application after application, as our students graduate with the confidence of knowing that these 200+ agencies we've established a relationship with in your behalf are an opportunity and phone call away.
Just the other day, one of our students excitedly informed us that by getting onto our distribution list for job openings he was not only offered a position paying $2 more than his previous pay, but the job was located much closer to his home. You see, the agencies we work with have your success and convenience in mind as well. Not only do they strive to align you with higher paying positions as our graduates have the American Forklift Training Centers, INC stamp approval, but they try to place you in positions that are closer to your home if you like.
It's time to leverage your 3 C's. To learn more about Forklift Training, forklift certification, and/or forklift certification renewal, please contact us today at: (323) 620-7000.
"I super recommend this place, I had all my certifications expire, no job and still searching for a lift job and luckily I was hire by Michael Kors. Please go visit this place if you need to renew or want to get a better paying warehouse job driving any lift. The prices are so reasonable, the person in charge has a great friendly attitude that you won't hesitate to get your license here. The only money I had on me, I invested in my licensing and now I get paid dllrs more than my base minimum wage were I work."
-Enrique