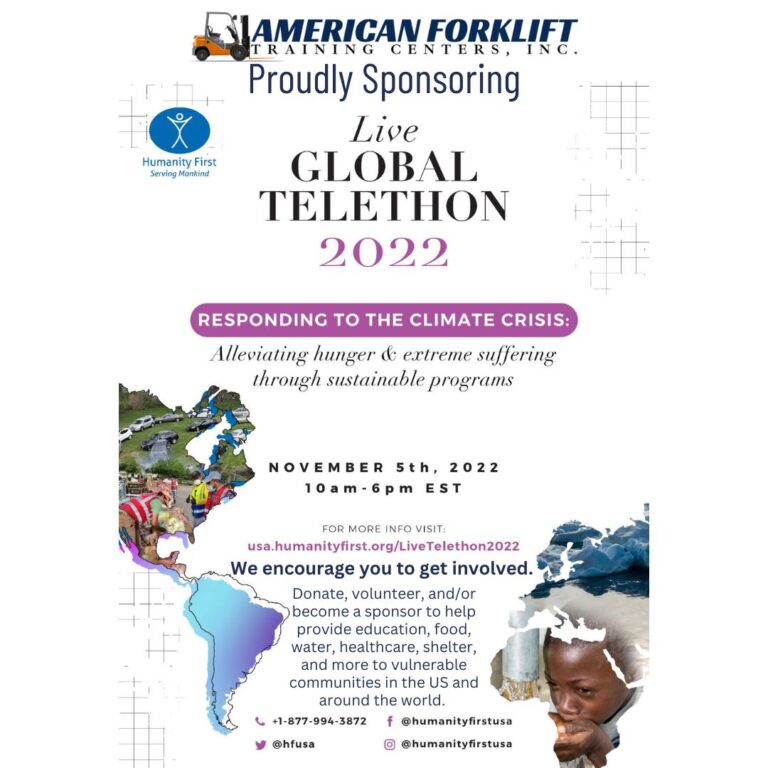 Humanity First USA – We're a proud sponsor and we encourage you to get involved too!
In the past few years, we have experienced a global pandemic, volatile economy, war, and climate induced natural disasters! Individuals and communities around the world and at home in the US are suffering. Many, if not already in poverty, are moving towards poverty. 
At American Forklift Training Centers, Inc., one of our main missions is helping and giving back to those in need. We already put out these efforts locally through our forklift training and job assistance programs, but we wanted to scale our efforts. We wanted to reach more. The question, however, was how? How could we give, while ensuring our efforts and donations would reach the greatest number of folks in need?
Unfortunately, many organizations and nonprofits claim to help those in need, but as they grow, an increasing percentage of donations are going towards staff, fundraising campaigns, and organizational leaders' pockets. 
Humanity First USA, however, is different.
Humanity First USA is almost entirely volunteer run, with approximately 90% of donations going directly towards funding disaster relief and development programs around the world. Their organization has been working continuously helping America and nations around the world alleviate hunger and extreme suffering through their various sustainable programs.
From caring for hurricane victims, to building schools, hospitals, food pantries, and clean water sources – there's no other non-profit like it that we've come across.
A few of their mentionable programs include: 
Global Education, where Humanity First USA builds and runs schools and vocational training programs in underserved communities around the world.
Disaster Relief, where crucial aid such as food, medicine, and shelter is provided in the US and globally during disasters, providing relief.

 

Water for Life, where clean drinking water sources are restored by rebuilding hand pumps and funding new wells – thus, giving access to drinking water to those in need.

 

Global Health, where from running mobile health centers to building hospitals, they work towards ensuring all people receive the medical care they need.
Food Security, where they have built and are operating pantries and soup kitchens all across the United States, in efforts of working towards a hunger-free America.

 
When we first heard about Humanity First USA, we knew this was the organization to get involved with. We knew our efforts would truly spread as far as possible, reaching the greatest number of those in need. 
On November 5, from 10AM-6PM, Humanity First USA will be holding a live Global Telethon on their website. Donations collected will help support their humanitarian programs. 
We are a proud sponsor of Humanity First USA and we encourage you to get involved as well. Donate, volunteer, and or sponsor this non-profit. Donate towards human development and disaster relief. Volunteer domestically or abroad, with efforts towards providing education, food, water, healthcare, shelter, and more to vulnerable communities. Sponsor and help build a better future for all of humanity.
To learn more, visit Humanity First USA.
On a side note, to learn more about our services, including forklift training, certification, and job assistance – Contact Us Today!