Compton Forklift Certification  – Foster Farms, Hollander Sleep Products, Nestle, DSC, Burlington, and the new and upcoming Ikea store are just a few of the MANY companies currently hiring forklift operators in Compton and surround Southern California locations.

Demand for forklift operators is continuing to rise, creating great opportunities for forklift certification students and American Forklift Training Centers, INC. graduates.
In fact, given the critical role forklifts play in such industries as manufacturing, warehousing, and construction, we can confidently state that becoming a certified forklift operator leads to a stable and rewarding career.
That said, not anyone can jump into a forklift career. The position requires a forklift certification, knowledge, and a certain skill set. However, graduates of American Forklift Training Centers, INC. can rest assure that not only will they receive a prestigious and valid OSHA compliant forklift certification, but they will also receive the latest knowledge and training on forklift operations, safety, workplace hazards, driving, & maneuvering.
This is one reason why we have recently been recognized by Los Angeles County as their source for unmatched contribution and expert forklift training, certification, and job assistance.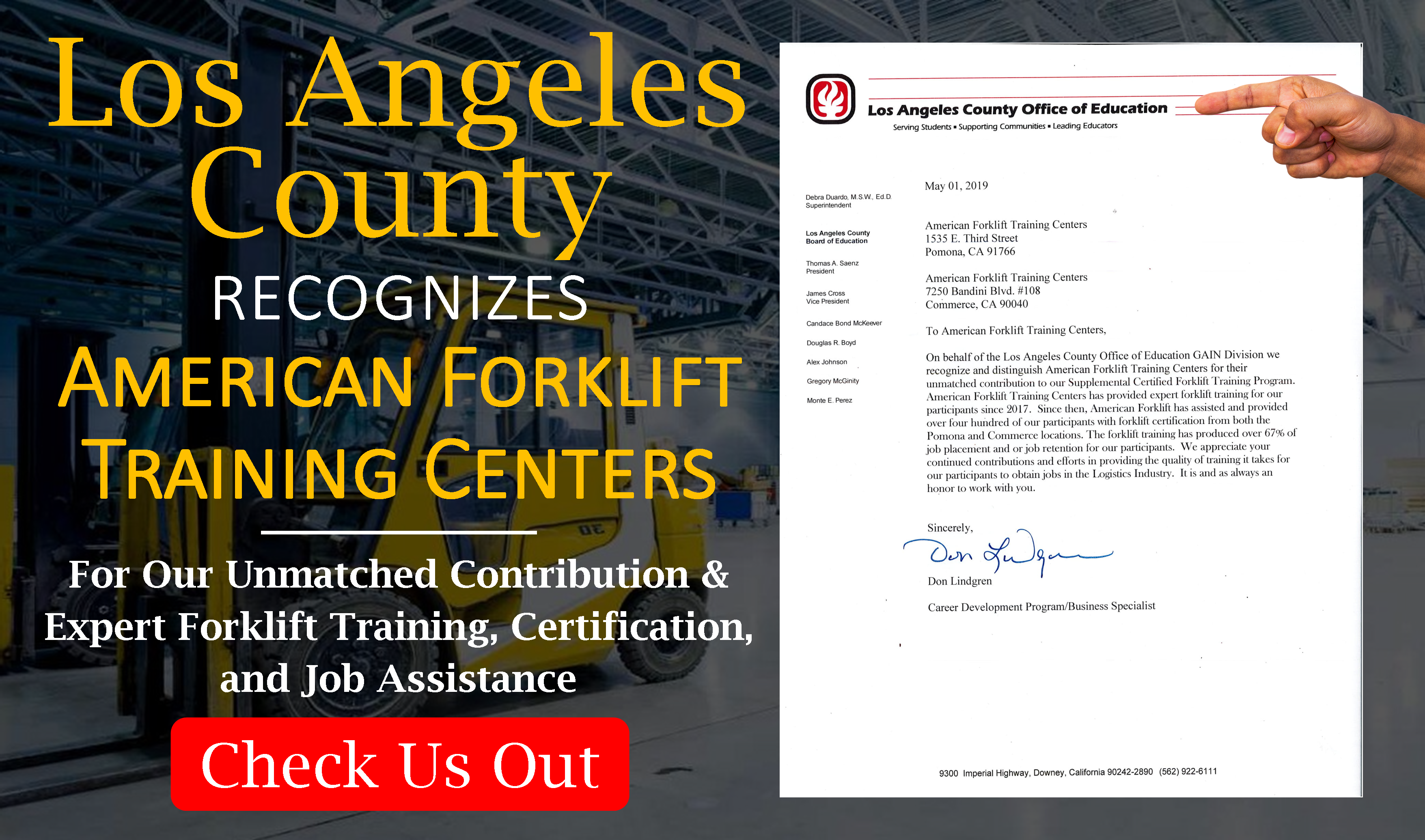 Once you become certified, in addition to acquiring a stable and rewarding forklift career, you will also notice a multitude of other benefits and perks.
For example, once you are OSHA compliant, you are able to legally operate a forklift in ANY state. This means you can have job security wherever you go!
Additionally, employers hiring forklift operators are seeking individuals just like you – individuals already forklift certified and / or in the process of obtaining their forklift training and certification from American Forklift Training Centers, INC. – as they won't have to spend money on getting you trained and certified.
In other words, obtaining your forklift certification quickly provides you with a competitive advantage over other un-certified applicants.
Furthermore, applying for a forklift position after receiving your certification says a lot about YOU to your employer. It shows them you have initiative, are proactive, and are serious about your career.
Moreover, as we know, work-related injuries can arise in manufacturing, warehousing, and construction environments. Forklift operators not properly trained and certified are a risk hazard and accident waiting to happen. Nonetheless, once you are trained and certified, you can be an asset to your employer by helping yourself and others be safe. You will understand and know how to confidently operate a forklift safely and properly. This also provides peace of mind for everyone and of course helps your employer avoid work-place hazards, product damage, and let's not forget to mention helps avoid lawsuits.
Becoming OSHA compliant certified also means…not only are you, those around you, and the product you maneuver protected, but your employer is protected too! Just another reason you'll be a sought after applicant.
We've mentioned it before, but did you know that employers can be heavily fined if their employees are operating a forklift without a valid certification? Serious violations can cost employers $12,934 per violation! Failure to abate violations can cost them $12,934 per day beyond the abatement date! AND…willful or repeated violations can COST them $129,336 per violation! Such expensive fines aren't a risk worth taking.
Finally, graduates of American Forklift Training Centers, INC. will also know how to properly operate and maintain a forklift to cut down wear and tear, as well as breakdowns on these expensive machines – one more reason making you more marketable.
Since our program is designed to create forklift operators above par, compared to competitors, we are proud to offer graduates job assistance. We've partnered up with hundreds of Southern California agencies and upon receiving your certification or renewing with us, we will send your information to the companies and agencies hiring in your sought area!
If you are looking for a rewarding career in high demand, with room to grow, and offering great stability – the first step is to obtain your forklift certification from American Forklift Training Centers, INC.! To learn more, please contact us today! (323) 620-7000